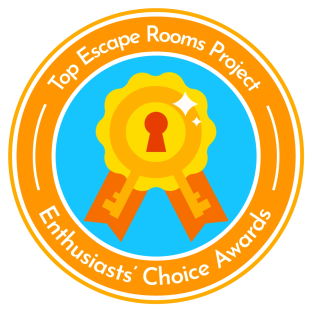 Top Escape Rooms Project Enthusiasts' Choice Award
The top rooms and top companies identified by the The Top Escape Rooms Project each year are awarded a Top Escape Rooms Project Enthusiasts' Choice Award, or TERPECA, which represents the best of the best in the international escape room industry.

The Top Escape Rooms Project is an attempt to find the very best escape rooms in the world by leveraging the experience of the most experienced escape room enthusiasts in the world. The project serves escape room owners and designers by publicly recognizing their achievements, and it also serves enthusiasts by providing an international bucket list of the best rooms to play.
2023 edition & changes
TERPECA 2023 nomination stage starts at the beginning of October and lasts until October 31 at 11:59 PM Pacific time.

There are some significant changes ahead compared to previous years. More info you can find in the Escape Buzz article and on the TERPECA official website
Escape Buzz article
TERPECA Facebook article
Categories:
Escape room industry database
If you are looking for experts, companies, conferences and more from escape room industry this database is for you. We gathereed information from whole market in one place, so you don't have too.