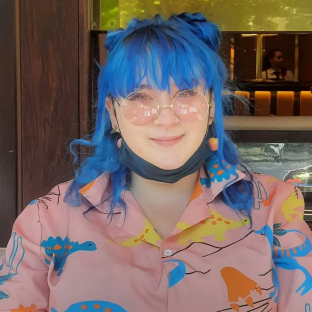 Mairi Nolan
I'm a puzzle game designer from London, UK who first got into this wild and wonderful industry back in 2018. Today, I've played over 200 escape rooms and can be found writing about new escape rooms across the UK, solving puzzles, and dyeing my hair every colour under the sun.
Who is Mairi?
Freelance Tabletop Puzzle Game Designer (at Curious Correspondence, MPC, and Professor Puzzle to name a few!), as well as video games and in-person installations. Also: Editor in Chief at The Escape Roomer, a UK based escape room news site and Researcher & Editor at Escape Industry News, an English language escape room newsletter.
The Escape Roomer Blog
Issues in which Mairi is an expert
Video Game Design
Tabletop Game Design
Digital Game Design
Community Management
Marketing
Journalism / PR
UK Escape Room Industry
Game Design portfolio
Facts about Mairi
My favourite animal is the octopus - the ultimate escape artist!

I can be won over with a really good cup of tea! In fact, I have three shelves in my apartment dedicated to the stuff.

I've lived in lots of cities around the world but now split my time between London and Edinburgh.
Categories:
Escape room industry database
If you are looking for experts, companies, conferences and more from escape room industry this database is for you. We gathereed information from whole market in one place, so you don't have too.